Darpan'16 – A feminist festival by Womenite
On 10th of March 2016, Womenite organized a feminist festival, first of its kind, named DARPAN – a mirror to our notions, soul, and conscience. The cultural-cum-entrepreneurship fest was organized in association with the English Department of Motilal Nehru College in their college premises and was sponsored by Aplava. The event revolved around the theme of feminism and focused on the need of participation of both men and women to counter societal issues. Padmashree Santosh Yadav, the wonder woman who climbed Mount Everest twice, was the chief guest of the event.
Darpan was a kaleidoscopic collection of a number of online and offline events. Photography and creative writing competition were the major online events that experienced overwhelming participation from people which gave the required inertia of support to Darpan.
The photography competition, Parchayi, drew the attention towards the women who prefer to be vendors or hawkers than beggars. Parchayi captured the zeal and determination of these ladies, who are no less than an entrepreneur.
Darpan's writing competition, the flowing pen, put a number of creative minds to test. "Creativity never disappoints". Young minds traversed all the dimensions of thinking and set horizons of creativity to a new high.
10th of March was the day of offline events. The fest began with the lighting of the lamp by the honorable chief guest, Mrs. Santosh Yadav. This was followed by her motivational and enlightening speech. She inspired the audience by sharing her experience of conquering 8,848m and encouraged girls to conquer their problems and underlined the importance of equality in day-to-day life.
Soon after that, Darpan was on with its panel discussion to throw light on shades of feminism, entrepreneurs, work culture, and equality. The esteemed panel comprised of Mr. Raghavendra Madhu, founder of poetry couture; Ms. Runjhun Gupta, founder of Zipout; with Mr. Sandeep Mann, a serial entrepreneur, renowned mentor and prolific writer, played the role of moderator. The discussion was a treat for those people who understood the meaning of feminism and believed in advocating equality.
The next in line was slam poetry competition or rather battle of verses. The deep insightful poems engineered by young poets were truly a mirror of the society. The event was judged by Mr. Raghavendra Madhu and Ms. Aditi Angiras.
 The Nukkad Natak Competition ran parallel to all the events. Top notch DU colleges like Daulat Ram, Kamla Nehru, Deshbandhu, PGDAV etc. participated in the competition. The energy of participating teams was unmatchable and truly depicted the potential of Indian youth.
A session by Ms. Japleen Pasricha, founder of FeminismInIndia.com, was followed highlighting the need of feminism in India. Meanwhile, Band LIMA (Live Music Alive) entertained the gathering of students and replenished everyone with their energy. The entertainment quotient didn't end here. This was followed by a magic show that left the crowd spellbound.
 On the whole, it was established that feminism is not just centered around women, rather it envelops all the elements of the society. The Yang is as important as the Yin to drive the nature in balance and symphony. It's essential that women get all the social, political and economic rights they have been deprived of since no one knows when. And then, it's good to be a feminist!
CSA session at Dribble Academy
Womenite took a yet another strong step towards eradicating child sexual abuse, this time with girls of a basketball academy. On 30th June 2016, members of Womenite organized a workshop on child sexual abuse for girls of Dribble academy. Dribble Academy is a basketball academy that gives free basketball coaching to children belonging to an economically weaker section of the society, operating in Noida. The emphasis of the session was to make girls aware of what is wrong and right and how to protect oneself from abuse in any form.
The session began with informal interactions and ice-breaking activities like breathing exercises to make the girls comfortable with us. Given the sensitivity of the issue, this is the
most important aspect of the session. Then, a short video on sexual abuse was shown to children to make them familiar with it. The video covered almost all the aspects of sexual
abuse in detail. This was followed by a discussion on the video. But the most important thing was to sensitize them towards the issue. Activities were carried out to make the girls distinguish between what's good and bad and how to tackle difficult situations.
The session was brought to an end with a confession game, in which girls had to anonymously write if they had experienced abuse in life or witnessed it happening to someone else. After the session, many girls came to discuss their problems with Womenite members and were guided accordingly. And the confessions gave us a rough picture about their problems which were then discussed with the academy head. Basketball, being a sport that involves a lot of physical contacts, has many occasions where one can feel uncomfortable and hence there is greater need to sensitize children towards good touch and bad touch.
The session uncovered many new things for Womenite to learn from and grow as an organization. Girls shared many grievous problems with us which indicate that fight against abuse is far from over.
Kendriva Vidyalaya, Sec 8 Rohini and Rohini Public School
Womenite team recently conducted sessions on Child Sexual Abuse at Kendriva Vidyalaya, Sec 8 Rohini and Rohini Public School with an aim to spread awareness about the social evil amongst children and to make them able to identify and tackle such a situation.
Yuvashakti Model School, Rohini 
Womenite at Balkalakaar by AIESEC
Womenite associated with AIESEC to conduct CSA sessions as a part of AIESEC's flagship event: Balkalakaar which saw participation of 100s of students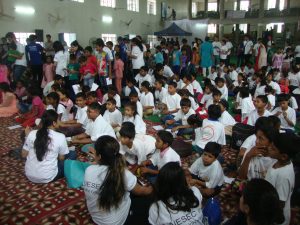 Raising awareness on Sustainable Development Goals
Celebrating 24th July as the World Merit Day to spread awareness about Sustainable Development Goals, Womenite took to Raahgiri, CP to spread awareness over the issue of Gender Equality, Education, Poverty, Health and other SDGs listed by UN. The event commenced with a freeze mob followed by a voluntarily drive for the people to come forward and put their hand impressions in support of Sustainable Development Goals. Alongside, we had a band performing beautiful songs, all based upon the theme of gender equality and other societal issues. The crowd found the entire event both a fun as well as a good awareness experience, with people coming forward in large numbers to support the noble cause undertaken. Out of 250+ events in 50+ countries, we were the co-winners in the whole world.
#feminism #equality #breakingstereotypes #freezemob
#worldmeritday #WorldMerit16 #awareness #education
#societalissues #worldpeace #bettersociety #genderequality
HeForShe event
m Womenite had an opportunity to interact with UN Assistant Secretary-General and UN Women Deputy Executive Director Lakshmi Puri and other high dignitaries on youth leadership for achieving Planet 50-50. 
Indraprastha Hindu Girls Senior Secondary School
Pink Raahgiri
Womenite took to streets on a Sunday morning to be a part of Pink Raahgiri to raise awareness on Breast Cancer. 
Our team at Raahgiri to promote gender equality
Making my brother care about female problems
Our founder, Mr. Harshit Gupta, was invited to Ramanujan college to address the issue that gender inequality and oppression are NOT female problems and how to make men care about it. 
Diya selling campaign 
Our team did a fund raising event at the time of Diwali in front of Spark mall, Kamla Nagar.  
Breast cancer awareness sessions 
October is celebrated as Breast cancer awareness month.  We called oncologists(doctors specialised in this field) to deliver workshops and seminars with students. We covered 8 colleges separately: Gargi, LSR, Hindu, JMC, Lakshmibai college, Cluster Innovation Centre(DU), Sri Guru Gobind Singh College of Commerce and Maharaja Surajmal Institute of Technology (IP University).