Udaan: Beti bachao beti padhao
An event called Udaan, Beti Padhao Beti Bachao took place in collaboration with Womenite and District Magistrate of West Delhi at the Surajmal Stadium, Nangloi. The program encompassed various girls from different Government schools across Delhi. The aim of the function was to make changes to the conservative thinking of people in society, to eliminate gender inequality and promote equal opportunity towards women in the society. The girls were accompanied by their parents who were overjoyed and proud to have given birth to such wonderful gems. The event commenced by introducing Mr. Satyendra Jain (Hon'ble Minister, Delhi government) as the Distinguished Guest for the day followed by Saraswati Pooja and lightening of the lamp by Mr. Parvesh Verma (Member of Parliament) who served as the Chief Guest , Mr. Sanjay Goel (IAS Director, Education, GNCTD) who was the Presiding Guest , Ms. Sunil Dabas (Padmashree Awardee, Women Kabaddi coach) who was made the Guest of Honour .
Read more..
Van Mahotsav 2018
According to a report by the Ministry of Environment and Forests, the total remaining tree cover of India that included forests and non-forest areas was 24.16% in 2015.
Realising the importance of trees for our future, Womenite celebrated 'The Festival Of Trees', 'VAN MAHOTSAV' in a bid to raise awareness about the importance of trees and encouraged people to plant more of them. After our team came into action, 1000 saplings were planted.
Through this act we not only aimed at planting trees just for a day but we also wanted to convey the message that through TEAMWORK, DETERMINATION and LOVE it is always possible to deal with any concern in the world as "Love is like a tree, it grows of its own accord, it puts down deep roots into our whole being."
Menstrual Hygiene Day 2018
Menstrual hygiene day is a global platform for people across all sectors to engage in action, advocacy and sharing knowledge about menstrual hygiene and management. Following the track of its docket, Womenite organised an awareness program on 'Menstrual Hygiene' at 3 different centers in Delhi with over 200 women under the banner of "Beti Bachao Beti Padhao" . Participants were told about the myths and facts related to menstruation. The session was an interactive one where females took interest, shared their experiences as well as their thoughts about the kind of secured future they dream for their daughters. The session got concluded with the distribution of pads and some refreshments among the participants. Womenite believes that to start a conversation is to step from 'Anxiety' onto 'Confidence' as Education and Awareness – be it about periods or any other thing across the globe , CHANGES EVERYTHING . Read more…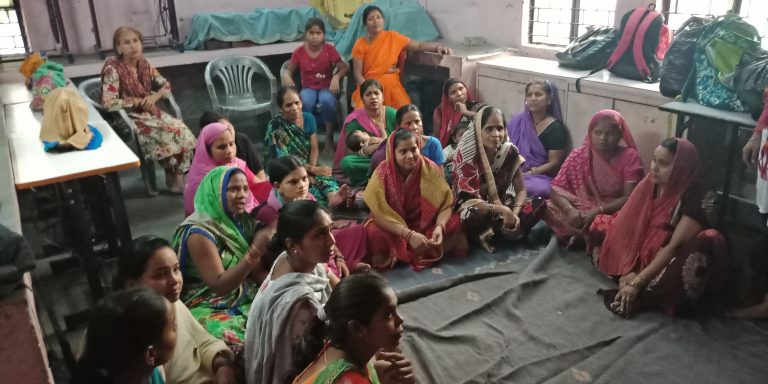 Naari ki Chaupals in 17 villages
Womenite in association with The Office of District Magistrate, North Delhi conducted Naari ki Chaupal sessions in 17 villages of North Delhi in honour of International Women's Day celebrations. Under this initiative, several volunteers visited different villages and conducting awareness sessions of the issues of girl education and menstrual hygiene. Addressing the dire need of our society for awareness regarding women's health and education, modules on Menstrual Hygiene and Beti Bachao Beti Padhao were being delivered to women of all age groups. Special emphasis was put on the importance of educating girls and how it will ultimately help them become independent individuals with financial security. The village visits had garnered a positive response. The women were open to discussion and have been immensely focal about their struggles and inability to achieve proper education.  Read more. 
Aaghaaz: Beti Bachao, Beti Padhao
On 10th March 2018, Womenite in association with District Magistrate of North Delhi hosted the annual feminist fest: AAGHAAZ at Japanese Park, Rohini. Themed "Meri Beti Meri Taakat", the event saw participation by enthusiastic young students in large numbers. The holistic event was aimed at spreading much need awareness about protecting the girl child and empowering women through diverse means.
The event began on an energetic note with Ms. Dipa Karmakar being the welcome guest of honour. Ms. Dipa Karmakar is an international level gymnast who has represented India at the Olympics. For her contribution, she has been awarded the Rajiv Gandhi Khel Ratna Award and the Padma Shri. Highlighting the importance of her parent's support in her life, she emphasized on the need to nurture young dreams of little girls and letting them achieve their desires with dignity. The star performers of the event were the Nizami Bandhu. With their meaningful sufi songs, they filled the venue with a new wave of excitement and vigour. The event concluded on a positive note. Read more. 
CSA
Womenite conducted a workshop on Child Sexual Abuse on 23-April-2018. The workshop was set-up in Adarsh public school, a private school in Nangloi where young brats were told about the issue. The enthusiastic buds interacted and learned a lot in the workshop. Due to lack of discussion, they were quite unaware about the issue. The curious minds came up with some really good questions which were subtly answered to them. At last, they bid us a good by after giving a print on a paper. 
Over all it was a good workshop where we were successful in sharing some important words with the children. The campaign was covered by News Nation channel. 
#Womenite #Workshop #CSA #SDGs#pocso #childsexualabuse #SDG5 #kathuarapecase
Protest at Parliament Street, New Delhi
बहुत हुआ बस अब न सहेंगे, अत्याचार यूँ ख़त्म करो,
मानव समाज के दरिंदों का, प्रावधान सजा-ए-मौत करो। आसिफा व उस जैसी हर बिटिया के न्याय की मांग के लिए युवा इसी तरह विरोध प्रदर्शन करते रहेंगे तबतक, जबतक की अपराधी दैत्यों को फांसी न मिल जाए।
जागरूकता की एक छोटी सी पहल के रूप में वूमेनाईट संस्था द्वारा आज शाम 5 बजे संसद भवन की गलियों में विरोध प्रदर्शन किया गया।
#मेरे_नाम_पर_नहीं
#notinmyname #ashamed #feminism#protest #standbythemParliament 
Inner Beauty session at Miranda House
When TedX speaker Onkar Kishan Khullar, popularly known as Digital Gandhi, stepped into the student activity center of Miranda college for an event organized by Womenite, on 27th February 2018, at noon, the room full of students from the same as well as different colleges, buzzed with excitement and anticipation. In front of them stood the man who was about to revolutionise the approach to his topic "Inner Beauty" with his laptop, cool action figures and party songs. The students connected not just with him, but with each other as well as themselves, by participating in unusual, fun and meaningful activities such as showing one's own style of ramp walk, giving oneself a unique name, meeting strangers and hugging them in the name of forgiving oneself, breaking the ice with proposals. It was not just a seminar or a workshop- it was a journey of accepting and loving oneself and others.
  #digitalgandhi #onkarkkhullar #event#activity #innerbeauty #love #hugging#proposals #workshop #seminar #colleges#du #feminist #feminismisforeverybody#womenite #changemakers
Menstrual hygiene session at Shyam Lal College, University of Delhi
Womenite in collaboration with ENACTUS ShyamLal Evening College, Delhi University organised a fruitful event which primarily focused on issues related to women's hygiene and sanitation on 20th February 2018. The event witnessed an interactive speakers session, documentary screening and a pad collection drive. The entire event was aimed at highlighting the dire problems women face due to lack of proper sanitation facilities, especially in rural india. With an attempt to create awareness the speaker encouraged students to adopt eco friendly sanitation options such as cotton cloth pads and menstrual cups that are easily available online. The pad collection drive was a huge success as students can in large numbers to donate a pad each for distribution to shelter homes.

#feminism #feminismisforeverybody#equality #makingadifference #change#ngo #womenite #changemakers
Raising awareness on child sexual abuse at SRCC, University of Delhi
The Child Sexual Abuse Department Of Womenite put up a stall at the NSS fair of Shri Ram College Of Commerce on 10th February 2018. Keeping in mind the degree of seriousness of the issue of child sexual abuse , our team interacted with the people in order to clear the myths or prejudices and presented really good and rare facts ! The serious environment soon got converted into a cheerful one, when games and fun activities like TRUE FALSE GAME – to check one's knowledge and understanding related to the topic, THE WORLD WAR – to test one's literary skills by making sub-words from letters and BURSTING BALLOONS were enjoyed by the crowd ! An anonymous survey was also conducted where people narrated and shared their personal experiences and information related to child sexual àbuse.
The team acknowledged the crowd with "i will not shut up" badges and the event ended successfully. It was not only informative but also impactful! An impact that will help any person to initiate against any kind of child sexual abuse in future.

#csa #childsexualabuse #abuse #awareness#education #iwillnotshutup #protest #fight#campaign #movement #womenite#changemakers
Role of Law in the Promotion of Gender Equality at Faculty of Law, University of Delhi
Womenite organised a Workshop in collaboration with Gender sensitization Committee, University of Delhi, on "Role of Law in the Promotion of Gender Equality", on 9th Feb 2018, in the Law faculty of DU. Onkar Khullar sir delivered an awesome presentation on gender sensitization and demonstrated the same. Rajni Abbi ma'am (former mayor of Delhi), Ira Singhal ma'am, along with other professors of the law faculty of DU participated in the panel discussion of gender sensitization. It was an interactive session and was very enriching. All in all, it was an amazing workshop.
#feminism #feminismisforeverybody#equality #makingadifference #change#ngo #womenite #changemakersFac
Menstrual hygiene campaign at SRCC, University of Delhi
The Menstrual Hygiene Department of Womenite put up a stall at the NSS fair of Shri Ram College of Commerce on 9th February 2018. Our theme for the day was Breaking Taboos. We organised games such as Beg-Borrow-Steal and also asked people to come up with witty and realistic taglines for periods and period related products. We urged others to 'break taboos' by knocking down bottles. Some of the taboos that were put up on bottles were 'Women can't enter holy places while menstruating', 'Women can't enter the kitchen', 'Women can't eat certain food items', 'Women can't take a bath or wash their hair'. We broke the bottles- now it's time to break the mindsets. 
#menstruation #menstrualhygiene#awareness #education #campaign#movement #periods #tabboos #myths#bustingmyths #feminism#feminismisforeverybody #equality#makingadifference #changeUniversity of Delhi
Gender equality workshop at Khyber pass community, Delhi
A workshop on gender equality was organized by Womenite and NSS IPCW for the under privileged children of the Khyber Pass community. The children were interactive and eager to know more about the subject. The workshop, conducted under the outreach program of the NSS, proved to be a successful one. 
We do have a long way to go, but these small steps, accrued in the right direction, can bring about a large change. 
 #gender #equality #NSS #classroom#feminism #feminismisforeverybody#equality #makingadifference  #changemakers
Walk on World Cancer Day
Cancer is one of the leading diseases in the world. While India is familiar with cancers such as blood and breast cancer, people are still unaware about retinoblastoma, one of the most common and life-threatening cancers affecting children in India upto three years of age. Retinoblastoma is an eye-cancer, with India ranking the highest in its prevalence, with about 1500 new cases reported each year. It can be completely cured if detected early, saving the child's vision as well as life.
To raise this awareness about retinoblastoma, Womenite, in association with the Department of Human Development and Family Empowerment, JDMC and Centre for sight, organised a peace walk, on the 4th of February 2018, the World Cancer Day. This walk started from JDMC, Delhi, with about more than 200 students participating, with several banners and slogans, to make the public understand and aware of the seriousness of this issue.

#cancer #retinoblastoma #worldcancerday#health #awareness #education#peacewalk #collab #day #world #dept#jdmc #du #walk #march #white #save#stop #protect #pupil #womenite#changemakers
Gender equality session at a government school
Womenite took a session on gender equality under the umbrella concept of egalitarianism, at a boy's govt school in Vijay Enclave, Uttam Nagar on 22.January, 2018. The session comprised of covering basics with an elaboration pertaining to topics and terms that serve crucial purpose in today's context and status quo. 
The audience was very receptive to information, owing to a lack of discussion about this specific topic in the circles they usually run in. 
It definitely felt like an impactful venture in how their curiosity was apparent enough in the questions they put up and the doubts they instantly and impatiently wanted cleared. 
The session, thus, was an overall success; us walking away with a sense of accomplishment and them with newfound social knowledge they won't chance upon in course books.
It's successes like these that inspire us to strive for more and it would be an absolute delight for us to collaborate with more foundations, NGOs and colleges for similar sessions and workshops in the future. 
Child sexual abuse campaign in association with Rahi foundation
Womenite in collaboration with RAHI Foundation presented a Campaign named 'I Will Not Shut Up' . In India 1 out of 3 girls are sexually abused before the age of 18 whole in boys the ratio is 1 is to 5. In this workshop we discussed several case studies of such survivors. Their stories brought tears in our eyes. A healthy discussion about Incest and Child Sexual Abuse being the sole purpose of the day. The attendees were introduced to concepts which are generally less talked about. Their perspectives were broadened as they came across different myths and facts surrounding such untouched subjects. Not to forget , the facilitator of the workshop , Ms. Rina D'Souza Ma'am , was mesmerising. The interactive session along with a few activities moved them all. We would love to collaborate with foundations/NGOs/colleges for more such workshops.
National Youth Day celebrations at Miranda House, University of Delhi
The afternoon of 22nd January went mellow and exciting for the people gathered in Miranda House for an interactive session by Onkar K. Khullar aka Digital Gandhi. We, Womenite organized this event in collaboration with The Vivekananda society, Miranda house which was an inspiring one, as the smiling faces exiting the venue revealed.
TedX speaker, Mr. Onkar K Khullar motivated the young minds to love themselves and follow their own hearts, with his unique flair. The presentation, the activities were all oriented towards making the audience see the beauty of heartbreaks, of rejections. Be it rejections from your work or from the person you love, it always triggers the creativeness in you (of course, there's the other path leading you to becoming the next Devdas, but that's your choice). Moreover, if they are not allowed to do the opposite, difficult times always hone one into a better and stronger person. This message was very well incorporated by the program.
By the end of the session, the aura of the room resonated with its occupants' feelings-confident and jubilant. All in all, the event was packed with all one could ask for-fun, motivation and joy.
Womenite wishes you a Happy New Year